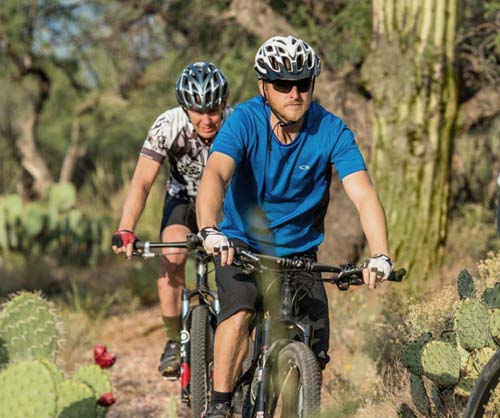 No Place Like It
Step into this scenic wilderness and you'll feel your senses awaken. The endless views to the horizon, the scent of sage and mesquite, the calls of strange birds will all have you in wonder at this beautiful desert landscape.
With 2,400 acres to explore there's a lot to see in Colossal Cave Mountain Park. Hiking, running, mountain biking and horseback riding are popular activities on our trails. Take your pick. There's no trail use fee or permit required. Need more information? Trail maps are available in the Cave Shop.
Arizona Trail
The Arizona National Scenic Trail (ANST) stretches 800+ miles across the entire length of the state from Utah to Mexico. It encompasses the entire spectrum of Arizona landscapes including deserts, mountains, canyons and forests. A 3-mile section of the Trail, designated Passageway 8 on the ANST map, traverses the Park and reveals breathtaking views, shadowy canyons, and beautiful Sonoran Desert.
There are two trailheads within the Park: one is located in the La Selvilla campground and the second is located in the Cowboy parking lot at the Ranch.
Bundrick Trail
The Bundrick is just under a mile and features the archaeology and the biodiversity of the Park. You'll traverse riparian areas with informational signs and stations and see ancient Hohokam bedrock mortars (circular depressions in rocks used by Natives to process grains and other plant foods).
The trailhead is located across the street from the windmill at the Ranch.
Path of the Ancestors
This trail is a great choice for a quick, yet diverse hike. The Path of the Ancestors is about one mile long and traverses pristine Sonoran Desert, riparian, and mesquite bosque habitats. Overlapping much of the Bundrick Trail, this one passes through recreated archaeological sites, as well as actual Hohokam bedrock mortars. Informational signage along the way describes how early Native Americans thrived in this harsh land.
The trailhead is located across the street from the train caboose at the Ranch.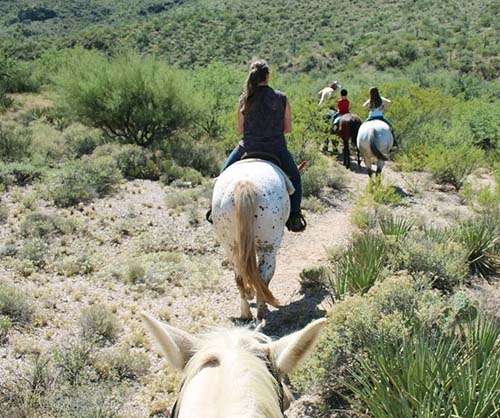 Way More than
Meets the Eye
Think the desert is uninhabitable? The scarcity of water and blazing sun can be deceiving. In fact, the Sonoran Desert is a rich ecosystem alive with more than 300 bird species, 100 reptile and amphibian species, 1,000 bee species, and more than 2,000 plant species! And Colossal Cave Mountain Park is where you can discover many of them.
That majestic icon of the old west, the saguaro cactus, is everywhere but while you're traversing the canyons, washes and bajadas you could encounter many other residents of the Park. Watch for owls, hawks, shrikes and other birds of prey. Sharp eyes may also spot scorpions, snakes, tarantulas, tortoises, Gila monsters, coyotes, bobcats, foxes, coatis and many others.